Woman Invents Silicone Pads To Get That Itch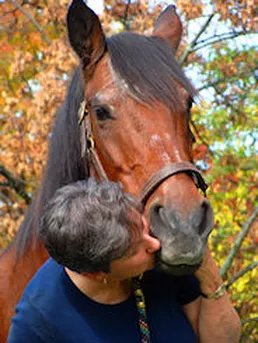 When Cynthia Garry-Jones wanted to try out her invention, she had the perfect product testers in the field outside her Franklin Twp. home in northern York County.
Because if there's one thing her 29-year-old mustang, Sundance, and her 16-year-old donkey, Teddy, like to do, it's scratch.
So last June, Garry-Jones mounted a prototype of her Scratch n All pad on a solid post outside the barn where the animals liked to scratch themselves. Although she didn't see Sundance or Teddy use the self-scratching pad, she knew she was onto something good when she found horse and donkey hair intertwined in the pad's nubs.
Now there are Scratch n All pads attached to the Dutch doors of Teddy and Sundance's stalls.
"I wanted something that they could scratch under their chin. I wanted it to go around a corner. And I knew there was nothing like it," Garry-Jones said.
The grooming pad, for which Garry-Jones has two patents pending, is made of silicone rubber. It has a v-notch in the middle so it can bend around corners and an interlocking design so several pads can fit together to create a larger scratching surface. The stainless steel screws that hold it in place are counter-sunk so they won't irritate animals' skin.
Scratch n All isn't just for horses and donkeys. "You know this is really for all animals and it's for people, too," Garry-Jones said.
She recently sold several pads to a woman who wanted to give them to her husband for Father's Day.
Garry-Jones has a video on her Web site of a lynx at the East Coast Exotic Animal Rescue in Fairfield using the pad.
Chris Lamparter, president of The Feed Store in Lower Paxton Twp., put a Scratch n All pad on a spot on his desk where his 350-pound Vietnamese pot-bellied pig Ellie Mae had worn it smooth from rubbing her face. Lamparter said he hasn't seen Ellie Mae use the pad but he has found her hair in it. "She's pretty smart," he said.
ELLEN LYON: 255-8167 or elyon@patriot-news.com