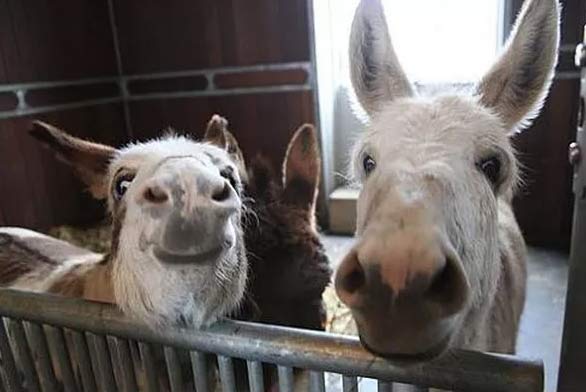 SCRATCH N ALL LANDS ON MARTHA STEWART'S FURRY FRIENDS' RADAR
DILLSBURG, Pa. – If pets had opposable thumbs, they would be giving Scratchnall big thumbs up! The Pennsylvania-based pet products company is getting rave reviews, and Martha Stewart's pets are the ones behind it with several paws up. Their blog, The Daily Wag, is abuzz with the word that Scratchnall self-grooming/scratching pad for a variety of animals – large and small – has hit the domestic diva's New York farm with great success.
"A few weeks ago, I was contacted by Martha Stewart's stable manager, Betsy Perreten," Cynthia Garry, Scratchnall's inventor, said. "Betsy saw my product back in November while I was an exhibitor at The Equine Affaire in Massachusetts. She thought Scratchnall would be a perfect fit for Martha's animals, so she called me and placed an order."
Scratchnall is a pad made to be used in stables, barns, kennels, zoos and homes. They are uniquely designed to be used separately, or they can be interlocked to create surfaces in any size or shape. Plus, they easily bend to fit around corners. Garry uses three pads for her horse, Sundance, and her donkey, Teddy. Various videos posted on www.scratchnall.com show different animals enjoying their turns."
After Martha had a chance to see and touch these pads for herself, she was very impressed," Garry said. "Her 50 pad order will allow her friends in fur to access the pads in a variety of designs and applications, thus increasing their enrichment and overall enjoyment."
Stewart has several animals on her farm that will enjoy Scratchnall; horses, sheep, and donkeys. Check out April 12, 2011, More Of Early April At My Farm (http://www.themarthablog.com) and April 12, 2011 The Daily Wag – Adventures with Francesca and Sharkey (Martha's French Bulldogs) for the scoop on Scratchnall's arrival (http://dailywag.marthastewart.com/author/fands).
About Scratchnall
Scratchnall is located in Dillsburg, PA, and was founded in 2008 by Cynthia Garrywith the goal of helping all animals. Garry is a lifelong animal lover whodonates her time to help various animal transport groups, and even went to Mississippi to help in the aftermath of Hurricane Katrina. Her goal is to grow her business in order to donate to reputable spay/neuter organizations that help end animal suffering and pet overpopulation.Garry is also a StartupNation Home-Based 100 competition award-winning business owner.