The yearlong path for inventor Cynthia Garry
was a lesson in the new economy.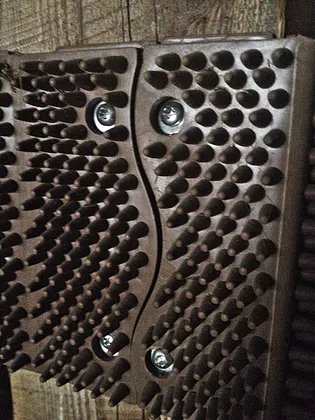 The once-crisp corners of Cynthia Garry's horse barn were rounded and smooth from about 15 years of animal itching.
Nailheads were beginning to dangerously poke out. The animals needed another place to scratch.
So Garry nailed old currycombs to a secured barn post and had what she called an "aha!" moment. The animals used them, and loved them. That was all about a year ago.
Today, Garry, 65, of Franklin Township, is ramping up the marketing of her new Scratch n All, a silicon-rubber pad with fingers to scratch any animal's itch.
The "All" in the name is because Garry is marketing the product for more than horses. Dogs and cats, and even people, can use it.
Once she developed, or discovered, the idea, Garry needed to find someone who could make it a real product. Her cousin-in-law had worked with a toy designer in Oklahoma, and Garry gave him a call.
Immediately, Rod Hoffmann knew she was on to something.
He has 17 horses, many of which are rescue animals. Hoffmann knew horses scratch a lot, and that nothing like this idea was on the market.
It hasn't been an easy process. It's taken some concessions.
After months of looking for an American company to design the molds for the rubber and manufacture the product cheaply enough, Garry had to look to the other side of the world.
China.
The only other choice was to skimp on materials or quality, she said, or have a product that would cost far more than the $10 they are now selling for. And Garry's still not particularly happy that her product is not made in America.
Garry calls the product an "animal enrichment product" -- something that makes the animal happier. She is attending trade shows, including horse shows, trying to get the marketing part of her endeavor off the ground.
In her past careers, she's jumped around various jobs, working at a funeral home and an air purification business.
But this one, she is finding herself in.
"This is all mine," she said.
Hoffmann, who has 30 years in the product development business, said he expects Garry to do well. Hers is a product for a specific demographic -- animal lovers.
That's what makes a successful product in today's economy, he said. "People buy stuff because it fits into their particular lifestyle," Hoffmann said.
bburkey@ydr.com; 771-2035
ABOUT THE SCRATCH N ALL
The Scratch n All is based on the design of common plastic currycombs and is made of a silicon rubber that withstands abuse and the elements.
The pads are designed to stack together to make a large scratching sheet or to attach to a hard surface individually.
They are also designed to fold in the middle, making them fit well on a building corner.
See www.scratchnall.com for details.
BE KIND TO ANIMALS
Cynthia Garry is kicking off her marketing of the Scratch n All to coincide with National Be Kind to Animals Week.
The week, from today to May 10, promotes being kind to animals and is sponsored by the American Humane Association.
For details, visit the group's Web site at www.americanhumane.org.