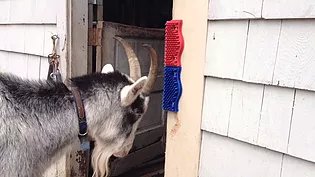 When Cynthia Garry, Dillsburg, noticed that her horse Sundance and donkey Teddy had difficulty scratching under their chins, she set about finding a solution for their dilemma, which, after three years of thought and development, has resulted in the formation of her own company to sell a mountable grooming pad.
The Scratch-n-All pad, a product of Animent, is an animal care product made of high-quality silicone rubber that allows any animal to self-groom and scratch on a safe surface. The pads come with stainless steel mounting screws and washers for affixing to any solid surface and can be interlocked to form a scratching surface of any size or shape.
Garry began thinking of a way to allow her equids to scratch themselves in 2005 and in the spring of 2007 created a prototype based on a type of curry brush. Garry mounted the device on a post outside her barn and waited to see how her horse and donkey would react. While she didn't observe the animals in the act of using the object, she did find hair on the bristles and assumed that they were scratching. "That's what you call the 'ah ha' moment," she said.
With her idea seemingly viable, Garry moved to finding a way to improve upon it. The wife of her cousin had invented a product previously and employed the help of Rod Hoffman, a toy designer based in Oklahoma. Garry contacted Hoffman, who, upon hearing her idea, told her, "I know what you want. I have 17 horses and there's nothing like that out there."
The two began collaborating in June 2007. Garry told Hoffman she wanted the final product to be able to bend at 90 degrees for placement around corners and to have the ability to join together. A v-notch was placed down the center of the new pad to allow it to bend, and as an added benefit also allowed water to run through it. A four-side interlocking design was placed around the perimeter to allow customers to create as broad of a scratching surface as they desired. Garry said that some people, upon seeing the scratch pad, comment that she should sell larger versions, but she just shows them the pads ability to expand in a jigsaw-like fashion.
In addition to achieving this dovetail-like function, the interlocking edges also have a wavy form that is meant to look like a spine as Garry wanted the item to possess a therapeutic design.
Silicon rubber was chosen as the material for the pad to prevent it from rotting when used outside and due to the rubber's ability to be recycled. "It's made from scratch, but you can't eat it," said Garry. Continuing with the eco-friendly nature of the product, the header card in the packaging was made of recycled paper, and the name of Garry's company, Animent, was formed by combining the words animal and environment to reflect her concern for ecological issues.
While initially created for horses and donkey, the pads are usuable by all large animals and have been designed for use in stables, barns, kennels, zoos and the home as an animal enrichment product. They are even being considered for use in an aquarium for an octopus.
The Scratch-n-All logo reflects the multi-animal nature of the pads with a horse, a cow, a dog and a cat being observed by a person, and it possesses the same curved design as the pads.
While now in the process of selling her invention, Garry has had some rough experiences in developing her idea and forming her company. First, the cost of manufacturing increased during production. Then, when the boxes of finished product finally arrived stateside, customs officials dumped the pads out and Garry had to pay for workers to repack them. When the tractor trailer finally arrived at her home with the first shipment, it got stuck in the mud. Despite these difficulties, however, the pad has begun finding success since its release to the public in March 2008, and Garry said she has received not one negative comment.
The pads are now in the marketing phase, which Garry has said is the most expensive part along with the patent applications. Several local stores currently carry the Scratch-n-All pads, and they can be purchased at her website at www.scratchnall.com.
A native of York, Garry has lived in Colonial Park for 25 years and has been in Dillsburg for the past 15. A nature lover, Garry believes her scratch pad relieves stress, invigorates and allows "animals to make themselves feel good."